GORHAM NIGHTLIFE TALE

NT

AGENCY
YOUR VENUE, YOUR VIBE, OUR TALENT.
No Worries.
Equal parts professionalism and talent.  Mix well.
GNTA provides a single place for venue owners and managers to find high-quality, vetted talent for their establishments. 
We are not a sign-up service for DJs and musicians.  We are a talent agency.  We go out into the world to find and represent talent we are confident in, and match up our already proven talent with your venue's atmosphere, location, and desired clientele. 
It's this algorithm that has proven to breed new and repeat patronage.
With a deep bench of eager and professional talent, in tens of thousands of gigs and 20 years of blizzards, hurricanes, rush-hours, plagues, fire, locusts, and anything else life and nature have dished out, we have had a qualified entertainer show up at the door smiling at every single gig.  Bar none.
We instill in our talent the idea of our jobs being cyclic:  1) Get people to come in;  2) Get them to stay longer and drink more by making sure they have a good time;  and 3) Make them want to come back.
Touring bands, cover bands, 3-pieces, or just a singer & a guitar, if you want people tapping their feet or dancing in the aisles … genre nights, local originals, or sing-a-long covers … We'll line you up with the right professional who knows how to work the room, with a built-in following.
We have formulated a dynamic, fast-paced, fun, FUNNY, multi-format up-to-the-minute 2-hour trivia game that will keep guests thinking, drinking, laughing, telling their friends, and coming back.  Expanded or scrunched, cleaned or muddied, intellectualized or broadened, and absolutely hand-tailored for your audience and location.  NOT a standard cookie cutter trivia with uninspiring MCs you run into everywhere you turn.  We hand-make each delicious cookie.
KARAOKE
Singers with vocal abilities of Lady Gaga to Lil Jon all shine, and the audience is the focus.  We do this by hosting karaoke the right way: creating a laid back and funny mood where singers of every talent level (or lack thereof) are welcome, helping people laugh good naturedly at themselves and their friends, and by treating everyone like a regular, and the regulars like family.
Mix with trivia to form dangerous concoction we call "Trivioke," or swap out the music for movie scenes for "Movieoke."   Guaranteed to get weird …
DJs/mcS/Unique & Innovative ideas
We have a small, handpicked crew of reliable, professional DJs and VJs who are experienced in creating a new experience each night, working a crowd and getting everyone up and moving, while utilizing experience and tools to keep drinks flowing at the bar as well.  We also offer unique and engaging bar games, tournaments, and other unique and engaging events.  Our talent and ideas get people in the door, sharing online, and coming back.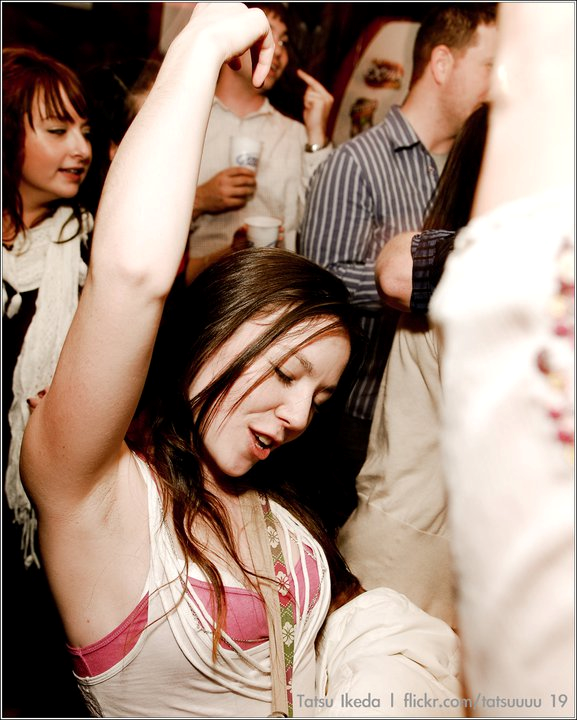 About Gorham Nightlife Talent Agency
Equal parts professionalism and talent.  mix well.
With 20+ years experience working with clubs and bars in and around Boston and beyond, Dan Gorham knows the formula and knows the talent.
I know a good DJ.  And Dan G of Gorham Productions is not a good DJ.   He's effing amazing.  Bar none best DJ ever.
I have never once lied to you or led you astray, so you can trust in this.
Hire Dan for your wedding or barmitzvah or dance event or karaoke event.  Hell, just hire dan to stand in a corner and talk to you.  He's so damned awesome that alone would be worth your money?
Okay, seriously.  Gorham Productions is ALL WIN.  Never before has a greater truth been told.!
One of the first karaoke DJs I got to know and one of my inspirations why I got into the business myself. His tact with unruly customers is among his greatest of talents and sense of humor is top notch. Short round (10 question/small prize) trivia is a great new offering. Always has a solid team of talented KDJs working for him and runs a solid business. I would highly recommend this DJ.
Dan's guys are top notch.  I have been doing karaoke as a patron for over 20 years in 21 states.  They are the best I have seen.  They run bar shows 7 nights in a week in downtown Boston.  My experience with downtown karaokes across the country is they generally change, come-and-go, or fail, because of rotating clientele and ownership of these types of clubs.  … Dan added guys that are top-notch to run consistent, quality-sounding, fun shows.  They mix the trivia in with the karaoke, and it makes for a fun crowd the entire night.  All of Gorham Productions' guys handle the diverse crowds and running contests seamlessly.  They're tasked with running karaoke contests for larger sums of money weekly than anywhere I've ever seen, and they draw great talent as well as a solid base of cool people that keeps me making the trek into Boston even with the naturally higher drink prices.  Both clubs I've seen them at also have dance clubs in the same venue.  I've been to one other place (in MI) that tried that, and the karaoke there was never well attended.  The clubs these guys work at are filled to capacity on weekends to the point of having a cover and a line outside every weekend, and the karaoke still stays well-attended.  I can't say enough about Gorham Productions as far as hosting bar karaokes and trivia.  I'm certain this translates to personal gigs for weddings and parties as well, given the quality of entertainment.  In some sense, the expectations for parties are well-defined.  As a former wedding DJ, and current substitute karaoke host for other friends' gigs, as well as a regular patron of Gorham's bar gigs, I hope this review provides you both the customer and host perspective to hire Gorham Productions.  These guys are the best!
When you're looking for a karaoke night where you don't want to take yourself serious but want to have an amazing time, look for Gorham Productions. He keeps it very light and very entertaining with his quick wit and his "wait for it" jokes. He helps along the more deserving "singers" so people who can actually stand up can have their 4 minutes of infamy. It's amazing the selection they have for songs. It's been very rare that they don't have it. And it they don't, you don't want to sing it anyway. Hire Gorham Productions for your next event and he'll be on speed dial for every event you do after.
What makes karaoke night a great night out for me is the energy and personality of the DJ running the event, and there is not a better karaoke master of ceremonies than Dan Gorham, the owner of Gorham Productions.  Sure, the crowd is also important, but the crowd can get bored if the person running the show doesn't make it interesting.  I used to go out to a bar in Boston once a month for karaoke until that place closed down for a while and I had to move to another.  The new bar was where I met DJ Dan and experienced what a great karaoke night should be like…I enjoyed his hosting style so much that, 2 years ago, I started going weekly (even one night during a blizzard and another under a tornado warning) and continue to go week after week.  Dan makes everyone comfortable getting up on stage and supports you whether you're a good singer or a bad singer.  Sure, he's got jokes, but they're funny jokes.  People laugh.  I've brought friends with me who swore they would never sing a karaoke song, but Dan has made recommendations of songs that crowds like and those friends have gotten up to sing…all of them so far.  Some kept coming out with me week after week because they enjoyed it so much.  
I would definitely want Gorham Productions to entertain at any event I was planning (I need an event to plan…anyone have one in mind).  Already thinking how much fun it would be to have some karaoke at a family reunion, or at my son's graduation.  Sure, my son is only 2 years old right now, but I imagine Gorham Productions will be around for a long time and I'm already looking forward to the entertainment at that party!
Let's Start a Conversation